Request a Cyberthreat Assessment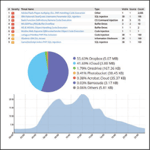 Threats to your network and systems abound from external and internal sources. Viruses, hackers, BYOD, IoT, social engineering, and weak passwords make it increasingly difficult to guard against network breaches.
Sign up for your customized cyberthreat assessment that highlights:
high risk applications
application vulnerability exploits
viruses, spyware, and adware
botnets
at-risk devices and hosts
end user application and web usage
bandwidth and session usage by hour
Find out if your current security protection is truly best practice.