Prepare for a CMMC Assessment
Get a Quote for CMMC Consulting Services
With the release of the Cybersecurity Maturity Model Certification (CMMC), there is no longer the option for self-attestation that there was with NIST 800-171.
Fill out this form to:
Learn how CMMC impacts you and your NIST 800-171 compliance
Learn what's involved with a CMMC assessment
Understand what technical & process changes you will need to make to comply with CMMC
Get a quote for a NIST assessment or CMMC readiness services
Stop putting your DoD contracts at risk. Fill out this form and get started today.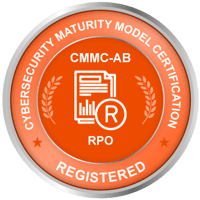 Corserva is a CMMC-AB Registered Provider Organization™ (RPO) and we are listed on the CMMC-AB Marketplace.