Comply with CMMC
Get a Quote for CMMC Consulting Services
All companies working in government supply chains need to comply with NIST 800‑171 or the Cybersecurity Maturity Model Certification (CMMC), depending on the contract under which they are working.
Fill out this form to:
Learn how CMMC impacts you and your NIST 800-171 compliance
Learn what you need to do to meet CMMC compliance
Understand what technical & process changes you will need to make to comply with CMMC
Get a quote for a NIST assessment or CMMC consulting services
Stop putting your DoD contracts at risk. Fill out this form and get started today.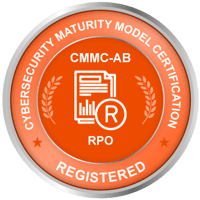 Corserva is a CMMC-AB Registered Provider Organization™ (RPO) and we are listed on the CMMC-AB Marketplace.